Haiku Festival's 2018 Guest Poet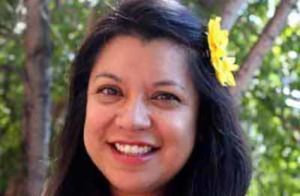 Chicago—Haiku Festival welcomes Guest Poet Angie Trudell Vasquez Saturday, 28 April 2018, 10AM, Harold Washington Library Auditorium, 400 South State Street. The program includes the Tsukasa Taiko Legacy (Japanese hand drummers), Hyde Park Suzuki musicians, and award-winning poets for Haiku Festival's 14th Annual Awards Program.
Ms. Vasquez is a poet, writer, performer, activist and 3rd generation Mexican-American.
She holds an MFA in poetry from the Institute of American Indian Arts, and BA from Drake University, where she was a Ruth Lilly Fellow. She was a poetry panelist at Split This Rock! Her poems have been published most recently in the Taos Journal of Poetry, Yellow Medicine Review, Raven Chronicles, San Diego Poetry, Subtle Forces, Return to the Gathering Place of the Waters and Cloudthroat. Vasquez garnered Pushcart nominations in poetry and essay categories. Her poetry books: The Force Your Face Carries and Love in War Time were published by Art Night Books. A third volume will appear in 2018.
Vasquez teaches workshops to writers of all ages. During her tenure at ACLU, she developed ACLU Wisconsin's Youth Poetry Workshops, and presented at Split This Rock!. Her poems appeared in Echolocations: Poets Map Madison, Turn Up the Volume: Poems About Wisconsin, Verse Wisconsin, Burdock, New Verse News, Real Change, Raven Chronicles and Chazen Museum of Art Bridge Poetry Series. Vasquez was a featured poet/performer at Bumbershoot, Seattle's annual music and art festival, and Latina Monologues in Milwaukee. Angie Trudell Vasquez received the Voices Award from Planned Parenthood's Roe v. Wade Celebration in her hometown, Madison, Wisconsin.
Haiku Festival's 14th Annual Awards Program is part of an ongoing effort to realize the organization's mission of "celebrating children through poetry readings, workshops, awards and events, while promoting literacy among people of all ages."
Haiku Festival's Annual Awards Program is co-sponsored by Harold Washington Library, City of Chicago Poetry Committee, CAN-TV, Adele LeGere, Karen & Daniel Lyvers, Juanita Smith, Carole Anderson-Lewis, Robert & Kathleen Egnor, Valerie Wallace, Marilyn Allen, Greg & Regina Baiocchi and Anonymous Donors. This event is FREE and open to the public. (Angie Vasquez photo by: Sarah Karon)